ENERPAC MANIFOLDS
---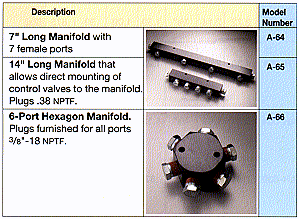 Enerpac makes three manifolds - A 7 inch & 14 inch straight Inline Bar and a Hex Block.
The 7 inch has its ports close together and is perfect as a dump/return oil manifold while the 14 inch allows convenient room to install control valves and is popular as an output manifold.
All ports are 3/8" National Pipe Thread.
---
Model A-64, 7" long x 1.25" x 1.25".
7 female ports. Wt. 4 lbs. $129

Model A-65, 14" long x 1.25" x 1.25".
7 female ports. Wt. 7 lbs. $196

Model A-66, 2" x 2" x 2" x 1.63" HEX.
6 female ports. Wt. 2 lbs. $131
---
For more in depth specifications click here

---
ENERPAC PAGE
INDUSTRIAL SYSTEMS PAGE
This page updated by Richard J. Tafilaw, March 26, 2018. Online since March 30, 1996

Consumer Phone Hours: 9:00 AM til 2:00 PM, Pacific Time, Monday - Friday,
.
OTTO SERVICE CO., PO BOX 1805, Sun Valley, California 91353-1805
United States of America



©2018 OTTO SERVICE