CHERRY PICKER/CRANE PAGE
CRANE SPECS &AMP PRICES
Also see Multi-Application-Crane, a Crane and MORE...
---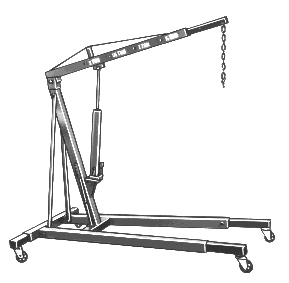 TYPICAL CHERRY PICKER/HOIST
---
CHERRY PICKERS/HOISTS/CRANES or whatever you want to call them have been around for well over 80 years with their most popular use being pulling motors (picking the cherry) from automobiles. Today the 'post and beam' crane/hoist is used in many applications outside of the automotive world where the need to pick up heavy objects close to the ground and raise them to a four to five foot height (such as loading on to a truck or work bench) is needed. A somewhat popular trick of late is to mount one on the back of a pick-up truck for lifting items on and off the truck...
The original design of putting a standard size 8 to 12 ton jack in the frame at a tight angle has given way to using a longer body 1 1/2 to 3 ton jack at a less radical angle resulting in more control and greater stability.
The frames are fairly generic with dozens of welding shops making them up across the country and overseas. Currently the rage is 'collapsible' frames that don't take up half your shop when they're not in use... But the heart of the system is the jack.
Lifting capacity ratings for cherry pickers are confusing with the problem being - the farther away from the top contact point of your jack the load is, the LESS lifting capacity you have. So, if you could hook your load about six inches from the point where your (3 ton) jack contacts the top beam you might have a lifting ability of, say, 2 1/2 tons. But, if your load is 3 feet from the jack contact point your lift is 1 1/2 tons. Then, if your load is attached to the maximum end of the arm, 6 feet or so, your effective capacity may only be 1 ton. Hypothetically, if you made your lift arm 20 feet long and attached a cheeseburger to it - your 3 ton jack COULD NOT pick it off the ground...
WHAT TO BUY
With the good old American made Marquette/Lincoln's having moved to China the best Bang-for-your-buck in standard cherry pickers has become the NORCO models (utilizing a Japanese made KYB jack inside an American made frame).

The Chinese & Taiwanese products that have flooded the market are of marginal quality and only suitable for home use, a few times a year...
Also, the MEYER Multi-Application Cranes are still American made and well worth considering.
---
CHERRY PICKER SPECS & PRICES
Multi-Application-Crane
SPECIALTY JACK PAGE
This page updated by Richard J. Tafilaw, February 1, 2008. Online since March 30, 1996

Consumer Phone Hours: 9:00 AM til 2:00 PM, Pacific Time, Monday - Friday,
.
OTTO SERVICE CO., 2014 Burbank Blvd., Burbank, California 91506
United States of America



©2007 OTTO SERVICE