AIR END LIFT Background
PRODUCT SPECS &AMP PRICES
---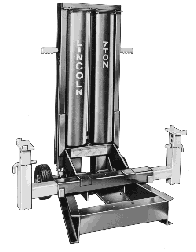 TYPICAL 7 TON AIR END LIFT
---
Air end lifts used to be more popularly known as air bumper jacks until auto makers stopped making bumpers strong enough to lift the front or rear of a car.
Today the jacks have pretty much left the car service world and with higher lifting capacities are becoming popular in the medium duty truck range of 2 1/2 to 10 tons. Their speed and lifting height make them quite attractive.
BUYING TIPS
These are pretty straight-forward beasts, a big steel cylinder on the outside with a piston having a large rubber seal on the end of it for the inside along with a cast iron ratcheting safety catch mechanism - Nothing exotic here.
They all seem to be American made with no one design superior to another but double check and stay away from any cheap Chinese/Taiwanese imports.
---
AIR END LIFT SPECS & PRICES
SPECIALTY JACKS
This page updated by Richard J. Tafilaw, February 1, 2008. Online since March 30, 1996

Consumer Phone Hours: 9:00 AM til 2:00 PM, Pacific Time, Monday - Friday,
.
OTTO SERVICE CO., 2014 Burbank Blvd., Burbank, California 91506
United States of America



©2007 OTTO SERVICE