PRESS Background
PRESS SPECS &AMP PRICES
---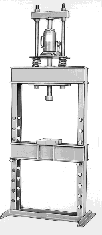 TYPICAL HYDRAULIC JACK PRESS
---
Hydraulic presses have been around for a century or more beginning first in the industrial/mechanical world then moving into automotive shops for pressing out wheel bearings and such.
Today there are two basic configurations. The first being an inexpensive but quite popular application where a standard Bottle jack is mounted into a framework and either pushes down from on top or else pushes up from underneath the work bed to do the pressing. Capacities run from 8 to 20 tons with an effective stroke of usually 6 to 8 inches.
The other configuration consists of a ram piston mounted in the framework from the top and connected to a separate pump system via a high pressure hydraulic hose. These systems usually offer a greater stroke from 6 to 12 inches and have capacities ranging from 10 tons on up to a 1000 tons or more.
A popular accessory for presses is a *pressure gauge* to tell the operator how much force is being exerted - often hard to tell by eyeballing or 'feel' because the whole operation is constrained within the confines of a framework.
MANUFACTURERS and WHAT TO BUY
Enerpac, Power Team or Simplex all make high quality industrial presses but for average automotive use (12-20 tons) the Norco presses (using a Japanese made KYB bottle jack in an American made frame) are good values.
From China & Taiwan several undeterminable brands are exported and are of marginable quality.
Several small companies make presses in different regions of the country and and may or may not have quality products - Try and find out who made the hydraulic jack or pump & cylinders before you buy - American or Japanese made, okay, China or Taiwanese, not so good...
---
PRESS Specs & Prices
SPECIALTY JACK PAGE
This page updated by Richard J. Tafilaw, February 1, 2008. Online since March 30, 1996

Consumer Phone Hours: 9:00 AM til 2:00 PM, Pacific Time, Monday - Friday,
.
OTTO SERVICE CO., 2014 Burbank Blvd., Burbank, California 91506
United States of America



©2007 OTTO SERVICE