USED or RETURNED EQUIPMENT PAGE
---
During the course of human events decisions are made that prove to be erroneous... People buy stuff, change their mind and send it back! Or else, equipment that once was needed becomes no longer needed - Get rid of the old junk! That's what this page is about - USED or RETURNED EQUIPMENT for sale.
---
Here's what we've got today - These items may or may not be here tomorrow...
---

We have one 'New but Returned' 2 ton Toe Jack from Power Team.
A customer ordered it, we sent it out, he ripped open the box and discovered it wasn't what he thought it was, so he returned it.
We can't sell it as "New" under the circumstances so here it is - New but NOT New...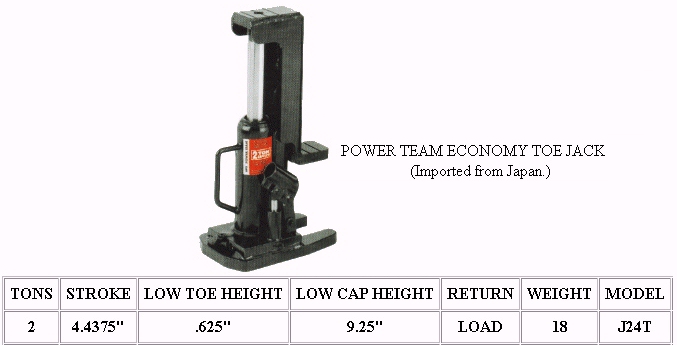 ---
List $563 - Our Price for this One single Unit - $350.
---
30 day warranty - It does what it is supposed to do or you get your money back!

This page updated by Richard J. Tafilaw, January 12, 2012. Online since March 30, 1996

Consumer Phone Hours: 9:00 AM til 2:00 PM, Pacific Time, Monday - Friday,
.
OTTO SERVICE CO., 2014 Burbank Blvd., Burbank, California 91506
United States of America



©2012 OTTO SERVICE